Town Hall May 24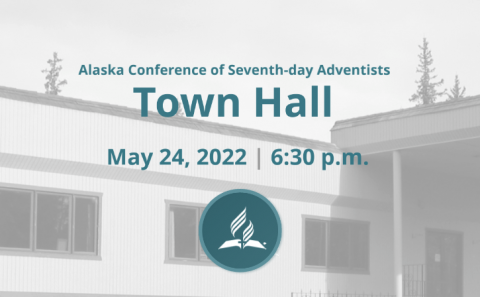 Mark your calendar! Join conference leadership LIVE on Facebook on May 24th at 6:30 pm as they provide updates around the conference. Meet our newest team member, Ashwin Somasundram, the Vice-President of Administration; learn about summer plans around the conference - camp meetings, youth camps, and church events; and hear about 2022-2023 education changes. Look for us on Facebook at "alaska.conference.sda".

Adventist Book Center Food Orders Due June 17th!
The Adventist Book Center (ABC) will be at Southcentral Camp Meeting in July with items for purchase including pre-ordered food items. Click on the link above to view the 2022 order form. Remember, pre-orders must be received by June 17th. Note that you must speak with a customer service representative. Please do not leave a voicemail order. If you prefer to email your order, please include a name and contact phone number where you can be reached in case we have questions regarding your order.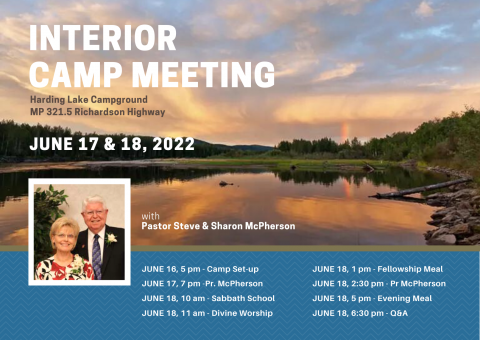 Youth Camps Start June 12th!
Every summer we here at Alaska Camps provide a fun filled camp experience for the kids of Alaska. Whether it's resident camps, outposts, or ultimate day camps, our goal is to help bring these kids closer to Jesus in a fun, welcoming atmosphere.
Discipletrek @ Pioneer Peak - June 12 to July 3 - Ages 14-25
Teen Extreme @ Pioneer Peak - June 26 to July 3 - Ages 13-17
Tween Camp @ Tukuskoya - July 3 to 10 - Ages 11-13
Camp Polaris @ Aleknagik - July 10 to 17 - Ages 8-17
Camp Tuk Juniors @ Tukuskoya - July 24 to 31 - Ages 8-12
Camp Lorraine @ Bank Island - July 31 to August 7 - Ages 8-17

Valley2Village Outreach
Sponsored by the Palmer SDA Church, V2V on June 12 will bring together Adventist, Anchorage and Mat-su communities in support of Arctic Missions. Volunteers are needed to assist with the silent auction, booth displays, international food fair and stage performances. If you are able to support any of these areas, please email Dexter Saddler, V2V Coordinator.

Friday Night Prayer Line
Join fellow Alaskans each Friday evening for the Friday Night Prayer Line from 7:00-8:00 pm.  Call 800-719-6100; Access code 4760107.

Remote Sabbath School
Do you live in an area where this is no local Adventist church?  Join the Remote Sabbath School Class on Sabbath mornings at 9:30 am.  Call 800-719-6100; Access code 4760107.