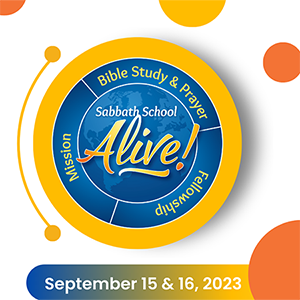 Sabbath School Alive!
Mark your calendars for Sabbath School Alive! Training September 15 & 16 at the Northside Church in Anchorage. Join speakers Jim Howard and Joe Reeves, Director and Assistant Director of Sabbath School & Personal Ministries for the General Conference of SDA, as they provide information on revitalizing your Sabbath School. Young Adults and those with a passion for YA ministry are especially invited to join in on Friday evening for their special presentation, available in person at the Conference Office, and also through Zoom.
Friday evening, 7 pm – Young Adult Ministry (Joe Reeves) 
Sabbath School, 9:45 am – Model the Lesson (Jim Howard)  
Church Service, 10:50 pm – Philosophy of Sabbath School (Jim Howard)  
Sabbath Afternoon, 3-5 pm – How to teach and how to make Sabbath Schools Evangelistic (plus Q&A) (Jim Howard & Joe Reeve)
In-person participation is encouraged for all who are able, but Sabbath sessions at the Northside church will also be live-streamed on its Facebook page and YouTube channel. Pastors/Elders may invite their churches to participate in real-time during divine service.