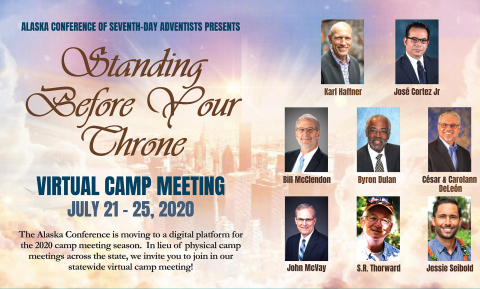 Southcentral Camp Meeting 2020 is going virtual! The COVID-19 pandemic has raised all kinds of questions about when large groups will be able to meet, or even whether people will be ready for that. In spite of the uncertainty, the spiritual food and camaraderie, the tradition of camp meeting is still important.
So while we won't be meeting in person at Pioneer Peak in Palmer and at other camp meetings throughout the summer, the Alaska Conference has planned an  online experience to encourage and connect us. What does Virtual mean? Programming will be accessible from your desktop, your tablet, or your cell phone. Churches that are able to gather in July can even host viewing parties! It all is still happening July 21-25, with programming for all ages, including José Cortez Jr. and Karl Haffner as our featured speakers!
Although you will be joining camp meeting from your home, we are accepting offerings during this time through AdventistGiving in support of Arctic Missions.  Southcentral Camp Meeting is one of the major funding sources to help support operations for our AMA workers.  Through financial support, you can help keep workers in rural Alaska!
We hope you'll plan to join us for a new way of doing camp meeting. Watch our website, Facebook and check your email for more details as we get closer to the Alaska Conference Virtual Camp Meeting 2020.