The Youth department is designed for teens and high school students (grades 7-12) or ages 13 through 19.  Jesse Siebel will be interacting with youth as he shares Blameless and with Great Joy with Alaska Youth.
Youth Speaker

Jesse Siebel, Director of Mission and Spiritual Care
Adventist Health, Hawaii Conference of SDA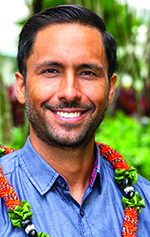 Prior to joining the Adventist Health team, Jesse worked with the Hawaii Conference of Seventh-day Adventist pastoring churches in Hauula, Waimanalo, and Kailua. During this time he also served as Youth Director, Communication Director and Ministerial Director. As an alumnus Hawaiian Mission Academy, La Sierra University, and Andrews Theological Seminary, he considers himself a life-long student of Jesus.
Although he was raised in a loving home and vibrant church, by the end of his teens Jesse was convinced that religion was great for those who needed it, but too simplistic and restrictive for him. After 2 years of college, Jesse was at a spiritual low. In 2000 he found an opportunity to teach grades 7-9 on the island of Kosrae in Micronesia. After two years of experiencing Jesus Christ change him and those around him, Jesse was convinced he had heard God's call to share the gospel.
Over past 15 years, Jesse has led in the development of new ministries, programs, and facilities. He is regularly invited to speak throughout the US and various countries, especially to youth and young adults.